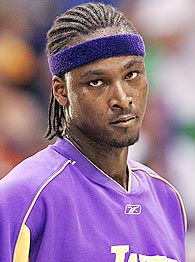 For anyone who thinks Kwame Brown answered his critics and played better against the Denver Nuggets, you are completely and utterly wrong. The Lakers won DESPITE Kwame.


TNT sideline reporter Cheryl Miller tried to confuse everyone with her "you guys really tried to get the ball to Kwame?" questions, and even though Kwame ended with 11 rebounds and just two turnovers, he continued to be ineffective. The +/- ratio is not always telling of what happened in a game, but in this case it does. Out of the 8 guys who played over 23 minutes, only two had a minus rating. Kwame and Luke Walton, both of whom stunk up the joint, played little to no defense and couldn't make an offensive move unless defenders were out of sight.

Kwame was -14. Walton was -7. On the other hand, Ronny Turiaf who came off the bench was +30. Kobe, who had a season high 11 assists was +21.

I guess the best part was that Kobe and company is enough to offset the destruction of Kwame and the absence of Andrew Bynum.


Kwame Kares
Kwame Brown apologized to his teammates for the way he reacted to the booing during Thursday's game against the Suns in which he had seven turnovers and eight points. He really should apologize to the fans, though, for his continued poor effort. Catching the ball is something you learn when you're five years old. I would rarely if ever boo a player on the Lakers, but there are times like Thursday when booing is warranted. Kwame is a grown man. He's 25 years old and he's in his 7th season in the NBA. This sensitivity issue that he has is childish.
"Once i started getting booed, I started playing hot potato with the ball," Brown said, according to the LA Daily News. "
Apparently there's two things Kwame failed to learn in school. Catching and acting appropriately when criticized (i.e., not crying).
Anyways, here are the only times fans should be allowed to boo a player on their own team:
1.
If it's obvious the player is giving much less than full effort. I'm talking to the point where the only time he dives for a loose ball is when there's a gun to his head. I'm talking Vince Carter type effort in Toronto.
2.
If the player criticized or made any derogatory statements, toward the home fans or the home city.
3.
If the player commits a heinous crime (i.e. killing dogs) and then tries to make a mockery of the justice system by smoking weed before he goes to trial, even though the judge told him not to do drugs.
4.
If the player says he's holding out for a larger contract because he has to feed his family.
5.
If the player is named J.D. Drew.
6.
If the player signs a huge contract in the offseason and then shows up completely out of shape to start the season, resembling Tractor Traylor or Stanley Roberts. Sometimes you see the player munching down at the buffet while the rest of the team is warming up.
7.
If a player turns the ball on 23% of his possessions, according to John Hollinger's stats. (That would be Kwame Brown.)
Trade Kwame but not for him
ESPN's Chad Ford suggested the following as one of the trades the Knicks could make to fix their squad. While the trade makes sense for the Knicks let's hope the Lakers aren't dumb enough to pull the trigger.
In exchange for Eddy Curry, "The Lakers could also put together a deal that included
Kwame Brown
's expiring contract and one or two of their young players like
Jordan Farmar
,
Javaris Crittenton
and/or
Trevor Ariza
."
I would show you what this trade looks like on the trade machine but Ariza can't be traded with another player until two months after he was originally traded to the Lakers, per NBA rules.
Anyways, the worst part about this deal is Eddy Curry's salary which still has two years left on it following this season with over $9 million in each of the two seasons.
The second worst part is Eddy Curry is a fat underachiever. The only thing he'd be good at is being fodder for Phil Jackson's jokes. So you trade one year fodder (Kwame) for two more years of fodder.
Third, Curry would have to be a back up center once Andrew Bynum comes back because you can't play the two of them together, or you'd get beat down the court on every possession. So you'd be paying huge money to a backup center and the Lakers haven't been that dumb since Sean Rooks.
Fourth, you'd be giving up good, young, and inexpensive players in Ariza and Crittenton/Farmar, and that would make little sense.
All this for a 7-footer who averages 5 rebounds per game in 28 minutes.
What does the DJ in DJ Mbenga stand for?
Trevor Ariza is out for 8 weeks, Lakers sign DJ Mbenga to a 10 day contract.
Trivia answer: Not sure where the J in DJ comes from, but his full name is Didier Ilunga Mbenga. Good times.
No Joke
From the NBDL: "Keith Closs, whose height and shot-blocking potential got him a five-year, $8.5 million contract from the
Los Angeles Clippers
back in 1997, is coming off the bench for Tulsa (and he now stands 7-5 if you include his blown-out afro)."
He also gets his ass beat in this infamous
youtube video.
As always, an updated Lakers +/- (through 39 games) Lakers: 27-12, 3rd in West
Fisher +154
Kobe +270
Turiaf +58
Odom +153
Mihm -16
Walton +122
Bynum +236
Farmar +122
Radmanovic +144
Brown -34
Vujacic +32
Crittenton -38
Karl +4
Ariza +5
Up Next:
at San Antonio Wednesday 6:00 p.m. PST ESPN