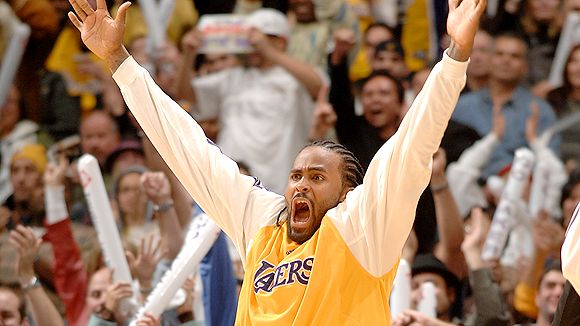 AP Photo/Phelan M. Ebenhack



What's the mercy rule in the NBA?

Any time Coby Karl gets an alley oop dunk, you know you're deep into garbage time. I'm sure most of you turned the Lakers/Timberwolves game off long before that happened, but in my quest to watch every minute of every Laker game this year, I caught a glimpse of the other Coby doing his high fly act.

The Lakers not only spanked Minnesota 117-92, which was somewhat expected considering Minnesota is the worst team in the West, but they finished their nine game road trip 7-2, the best record for a continuous nine game trip in NBA history.

Last year on their eight game East coast trip, the Lakers went 3-5.

"Pau came at the perfect time," Lamar Odom told John Ireland after the game.

Pau indeed came at the right time. For the Lakers and for Lamar. Odom had a triple double with 10 points, 10 assists, and 16 rebounds. This month, Odom is averaging 13 points, 11.6 rebounds, and 5.6 assists per game.



Oh shit:

One thing you can say about Wednesday's game: It had to have set the record for most sound pauses due to profanity. I guess that means less Joel Meyers and that has to be a good thing.


Props to D Fish and Ronny:
My two favorite Lakers made it to Ric Bucher's Quasar team
recognizing "the players who have made indispensable contributions to this season's winning teams but will not be part of the league's All-Star festivities in New Orleans later this week."
I feel blessed that I get to watch Kobe Bryant play:

A Miami Herald columnist recognized Kobe's greatness and challenged Dwyane Wade to get to that level.


"If the Miami Heat is going to experience the same kind of recovery that the Lakers currently are, then Wade is going to have to rise to Bryant's level.
He will have to be the efficient scorer who can fill it up in a variety of ways, rather than relying on a handful of pet moves that defenses come to expect.
He will have to play the type of consistent defense that allows him to actually guard the opposing team's top perimeter threat, rather than just coming from the weak side to grab a few steals and block a few shots.
He will have to be the decision maker who gets the maximum output from each teammate, rather than the player who dismisses a personal nine-turnover performance."
Over the last three games, Kobe averaged 31 points per game, made 33 straight free throws and shot over 50 percent from the field (26-50), and yet none of that amazes me. It's the fact that on every play, Kobe gives it his all. On every single possession. He's not Shaq or Vince Carter. He has a dislocated knuckle on his pinkie that swells up but he doesn't complain.

His competitiveness is extraordinary. You think that doesn't make his teammates better? You think hustling for loose balls when you're up by 20 doesn't motivate your teammates?
Against Minnesota and Miami, Kobe hounded the guy he was guarding. Wade had 9 turnovers. Marko Jaric was 1-5 and scored two points. Against Charlotte he cheated off Jeff McInnis to help defend the other Bobcats. Kobe had four steals and two blocks.
And that's why it's a privilege to watch him play. Because this is greatness. This is the Michael Jordan of our time. Because on every possession you may see something that no one else in the league can do.
Going small:
In the Suns/Warriors game the centers for an extended period of time were Boris Diaw (Suns) and Al Harrington (Warriors). So you're telling me when Shaq finally suits up, there won't be a change of philosophy?
Shaq runs, postpractice spread nowhere to found: The Diesel practiced with the Suns Monday and said he was winded but felt fine. Shaq said he considers himself a role player and will need some time to figure out what his role will be.
When he comes back, he will serve the "Look there's Shaq running into the television picture" role. "Seven seconds or less" now refers to the amount of time it will take for Shaq to get into the frontcourt.
A former Laker helping the Lakers: Devean George blocked the Jason Kidd to the Mavericks deal from happening.


Mike Stoops is officially an idiot:


Former UA recruits are not happy with Arizona's excuse for a football coach.
Here's what one of the three had to say: Jarrell Barbour, a wide receiver from Peoria Centennial High School, said,
"(Stoops) put my business out in the open. It was cruel. I didn't want to go there because their football team is horrible. They stunk it up bad."
Just when you thought Stoops couldn't act any more like a child, stomping his feet and yelling on the sidelines, he did. He accused ASU of being easier to attend academically. As a U of A alum, I couldn't agree any more, because after all they're the Scum Devils. But I'm also not the football coach and I also didn't just lose three top recruits to my in state rival. It's not about ASU's academic policy, it's about constantly being beaten by ASU on the field and in recruiting. Stoops continues to blame others for the losses (see: the schedule, other teams recruiting tactics) in order to save his job and his reputation. But I am not buying it. Good coaches don't make excuses. They execute, and that something the Arizona football team hasn't done.

A lot of misremembering:

The five hour "trial" of Roger Clemens can best be described as grueling. I thought Clemens was a cheater coming in to Wednesday because the evidence was stacked against him. I mean, Andy Petitte and Chuck Knoblauch both ratted him out and his wife admitted that she was taking HGH. Clemens however continues to sit on his high horse. I won't get into all the things that were said at the Congressional Hearing because it was just a government spectacle with no real solutions. It's a publicity stunt for the government and like most good dramas, draws a big audience.

But I will discuss something I noticed a while ago, when this mess was just beginning. Here's what Clemens told Mike Wallace in that 60 minutes interview he did.

"I'm angry that what I've done for the game of baseball and in my private life, I don't get the benefit of the doubt. It's hogwash for people to even assume this. Twenty-four, twenty-five years, Mike. You'd think I'd get an inch of respect."
Here's my problem with this:
How dare he say "what I've done for baseball." How about what the game has done for him. Made him a celebrity, a rich man, and likely helped him get his hot ass wife.
No man is bigger than the game. It might be cliche but it's true. If Clemens had never existed, there would just be someone else to take his place. Baseball would go on.
Earlier I said I felt blessed to watch Kobe, and I'm sure some people feel the same about Roger. But as a huge fan of basketball history, I don't think you'll ever hear Kobe say the game of basketball owes him anything. Sure Clemens was fun to watch but baseball owes him nothing. And now that he's cheated the game, he's hurt the sport far more than he helped.
Be glad you're not a fan of Pittsburgh baseball:
The Pirates have had 15 straight losing seasons and their
"organizational mantra" is "Please bear with us -- we promise to get it right this time.''
Check it out:
My Daily News CSUN notebook.
The Matadors BracketBusters game will be televised Feb. 23 on ESPNU at 6 p.m.
As always, an updated Lakers +/- (through 52 games) Lakers: 35-17 5th in West



Fisher +214
Kobe +375
Turiaf +60
Odom +217
Gasol +76
Mihm -16
Walton +123
Bynum +236
Farmar +126
Radmanovic +199
Brown -44
Vujacic +69
Crittenton -40
Karl +4
Ariza +5
Mbenga +7


Up next:
vs. Atlanta Tuesday 7:30 p.m. PST FSN