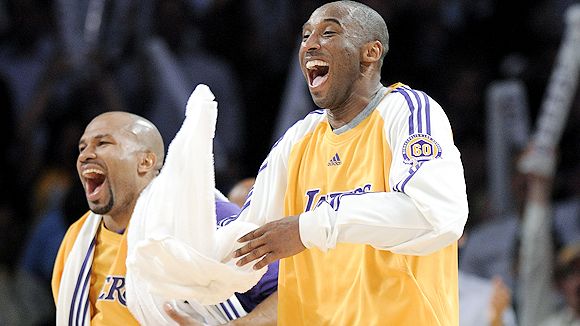 AP Photo/Kevork Djansezian
The Lakers didn't even have to sweat it out in their final home game, taking the Western Conference Regular Season crown in a win over the Kings, a title few thought would be bestowed upon them at the beginning of the season.
No Brad Miller, no Kevin Martin, and no Ron Artest made it nice and easy, allowing the regulars to sit out the fourth quarter and the fans (including David Beckham who sat about 10 rows in front of me) to give Kobe a standing ovation as he sat down late in the third quarter.
Now comes the hard part, and realistically the only meaningful part of the season. The Dallas Mavericks had the best record in the West last year and all they had to show for it was a first round exit at the hands of the Golden State Warriors and tons of ridicule throughout the summer.
Upcoming for the Lakers is most likely series against the No. 8 Denver Nuggets. The Nuggets still have a chance to get the No. 7 seed with a win against Memphis and a Dallas loss to New Orleans. Sounds pretty plausible, but the Hornets are locked in to the No. 2 seed and have nothing to play for. The Mavs meanwhile would much rather face the Hornets than the Lakers so you better believe they'll be playing hard. Look for Chris Paul and Co. to sit much of the game.
Onto the matchup. The Lakers have beaten the Nuggets by an average of 16.3 points per game in three games this year. Two were blowouts, while one was a four point victory for the Lakers.
The Nuggets play 0 defense. None, nada, nunca. How's that for Spanish, Kobe?
I don't expect the Nuggets to win one game, as long as the Lakers keep their focus. There couldn't have been a better matchup for the Lakers out of the top West teams and that includes Sacramento, Portland, and Golden State, three teams who didn't make the playoffs.
Carmelo Anthony has bigger things to worry about than the Lakers:

According to KWGN TV in Colorado,
Anthony's fiancee LaLa refused to pick him up from the police station and a police sergeant drove him back to his Ritz Carlton hotel. That launched an internal investigation into whether Anthony received preferential treatment.
DUI charges are pending toxicology results.
Are you a loyal fan?
The $65,000 question
(from MLB.com)
Whatever happened to Yhency Brazoban?-- Greg G., Fargo, N.D.
He's on the comeback trail after missing most of the last two seasons, first with Tommy John elbow reconstruction surgery, then with a torn shoulder labrum. Brazoban reported to Spring Training with his typical weight problems, pitched impressively in one exhibition game and then had a setback.
Brazoban opened the season at Double-A Jacksonville, with the goal of rebuilding arm strength and, hopefully, dropping some weight. If he keeps it up, Brazoban's likely to show up in Los Angeles sooner than later.
--
Ken Gurnick Dodgers MLB.com beat writer
Todd McShay and Mel Kiper Jr. hate each other:
Not only do they talking lik they are disgusted with each other on television, but McShay wrote this in his Mock Draft 7.0 in discussing the Chiefs probable selection of Branden Albert at No.5:
"As much as it pains me to admit it, Mel Kiper's info on this pick seems to be accurate. It feels like a reach to me but the Chiefs evidently think enough of Albert to take him if they are stuck here."
High Five


Andrew Bogut high fives himself
Andruw Watch:


Tuesday: 2-3, 2 runs, 1 BB
Season: 7-47 BA: .149

Whoopeee, the Dodgers' $36 million man is up to .149!


Making sense of race:


Recently an annual report came out and stated that African-American baseball players are down to 8.2% from 8.4% in the Major Leagues. The media quickly rose to the occasion, condemning the lack of African Americans in baseball and practically shouting racism.

Here's what I'm much more concerned about. African American doctors make up only 3.9 percent of doctors in America, yet that gets no publicity. African Americans make up about 12.4 percent of our entire population according to the US. Census in 2005, yet the media is concerned about a 4% difference in baseball players, and ignores a much more important 8.5 percent difference in doctors. Maybe if these same advocates put together a Doctors in the Inner City program rather than a Baseball in the Inner City program, our country would be better off.

For now, it appears a lot like baseball is just trying to get the African American sector involved in the game for financial purposes.