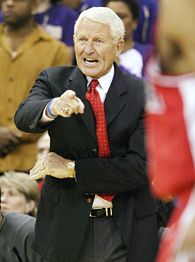 Lute Olson will return to the Wildcats.
But not until the 2008-2009 season, according to FoxSports.com.
Still no word as to why Lute has been out, but one good point I heard today: "He didn't miss a year for Bobbi's death."
Meanwhile, without Lute, the Wildcats play nine games over "winter break. "Here's a
breakdown of what to watch for by my boy Michael Schwartz.
By the way I appreciate the love from the people commenting on that story.
And on a side note, no longer having a winter break saddens me immensely.
Oh, and by the way. Daniel Dillon started three games this year and played in all six games before getting the dreaded DNP-CD against Texas A&M. And this was explained where? As always there is some cover up going on in the Arizona program and I guarantee Dillon just didn't "match up" well against the Aggies. I'm gonna go with either "conduct detrimental to the team" or the good ol "breaking team rules." Come on Tucson journalists, get to the bottom of this. I'd like to know why a senior starter and the man who was supposed to be this year's defense stopper played 0 minutes against a top 10 team.
Just a thought:
Why would baseball players receive shipments of HGH or whatever drug they were getting at their home address? Why not either have it sent to A) P.O. Box or B) a friend/relative/middle man's house who wouldn't be under the public or government scrutiny. I think that would make sense, to not leave your footprints all over the place when you're doing illegal activities. But they are just baseball players I guess.
Defending Juan Pierre:
Let me preface by saying I already think Keith Law's opinion is clouded because he actually liked the Andruw Jones signing. But he also has this passionate hatred for Juan Pierre.
"Any scheme that puts Pierre in an everyday role hurts their offense almost as much as it hurts my eyes," he wrote.
Why do you hate Juan Pierre so much? Granted he's overpaid, just like Andruw Jones and half of all other MLB players, but he's a guy who batted .293, stole 64 bases, and never strikes out. His OBP isn't great, but it's only .06 lower than Alfonso Soriano and higher than guys like Ryan Zimmerman, Jason Bay, J.J. Hardy, and Andruw Jones. Hmmm.
He plays hard, messes with pitchers heads using his speed on the basepaths, and can hit in any situation. You can hit and run, run and hit, suicide squeeze, or run any play in the book with Pierre. Having a guy like that is a huge advantage for any manager though with the lineup Torre had in New York, it's unclear whether he still remembers that bunting is a part of baseball.